As more COVID-19 vaccines arrive in North Carolina and the skies begin to brighten, hospitals are getting people vaccinated as quickly, safely and equitably as possible. This includes finding ways to reach thousands of people for whom regular vaccine distribution methods just don't work.
Take transportation, for example. How can you get to a mass vaccination site if you're homebound due to serious health problems? And making an appointment can be impossible if you don't have an internet connection and can't get online.
The challenges are varied, but hospitals across the state are using innovative approaches to make sure that no one who wants a COVID-19 vaccine is left behind.
#1 Start with an understanding
Elizabeth City-based Sentara Albemarle Medical Center and regional health department Albemarle Regional Health Services (ARHS) teamed up to get vaccines out to citizens in the northeastern part of the state.
For many families in this area, accessing healthcare isn't easy—or top-of-mind. "For a lot of people, healthcare isn't their priority," says Amy Underhill, ARHS health education director and public information officer. "The priority is to keep the lights on, to find childcare, to keep working. Adding vaccinations on to that is very challenging."
In western North Carolina, another hospital-health department alliance formed between HCA Mission Health and the Macon and Jackson County Health Departments. In this area, many people in the Hispanic community struggle to get to a health department for a vaccine, which is more than 45 minutes away, and to feel safe getting the vaccine.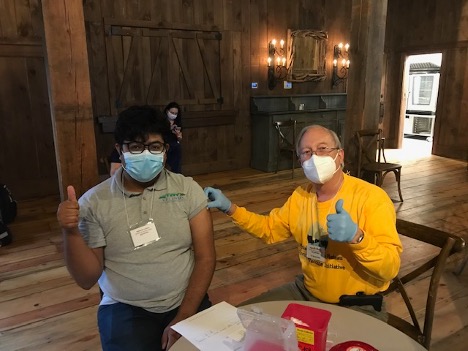 #2 Include trusted leaders
To get the right message out there, the Sentara Albemarle team set out to ensure that people had access to reliable information. The medical center's president Philip Jackson, DSL and his team regularly brought together healthcare and community leaders for weekly calls to field questions, provide updates about the virus and to help doctors get messages out to their patients.
Participants included non-profit groups, faith-based leaders and other community groups. "We knew that if we could get accurate information to trusted leaders in our community, they could filter it on to their congregations, or to the populations they serve," says Underhill.
To reach the Hispanic community, HCA Mission Health in Asheville enlisted the help of organizations that have historically served this population, including Community Cares Clinic, Vecinos and International Friendship Center, to strategize about how to overcome barriers to vaccinations. They identified "ambassadors" to advocate for safety of the vaccine and to share vaccine clinic location details. 
Wake Forest Baptist Health in the Piedmont Triad similarly worked with housing leaders and the Fresh Food Rx program to provide COVID-19 vaccines and healthy food to older adults living in a senior apartment complex in east Winston. "We are constantly looking for ways to reach those in underserved areas and populations who are disproportionately affected by COVID-19, " said Rachel Zimmer, D.N.P., director of Wake Forest Baptist's Mobile Health Clinic.
#3 Make clinics accommodating
Wendy Pierce, a development advisor at Sentara Albemarle, said that in addition to running mass vaccination clinics, the health system goes out to local communities to hold smaller vaccination events at locations such as a church, senior center or housing complex. She explained that some of these are "equity clinics," which give out doses allotted by the state specifically for marginalized seniors. To draw people to its first equity clinic, Pierce worked with a pastor she'd teamed up with earlier to roll out COVID-19 testing efforts in the community.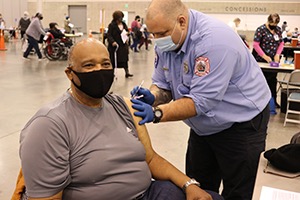 This clinic was well received, and an impressive 99% of people returned for their second dose. "It's very encouraging," says Pierce. "I think its success may be due to the pastor, who has a strong rapport with the community."
For its vaccination clinics, HCA Mission Health created sites that purposefully signaled safety. There were no law enforcement officers. Instead, there were welcoming signs from recognized, safe community organizations and Spanish speaking staff. 
#4 Address transportation
The Sentara-ARHS team has used the existing Inter-County Public Transportation Authority system to bring sick or homebound people to and from a vaccination appointment, including a couple in their 90s.
The woman told Underhill, 'Honey, there's no way I can go stand in line or even sit for several hours, and my husband doesn't drive.'" Thanks to the transportation system, they were both able to get vaccines.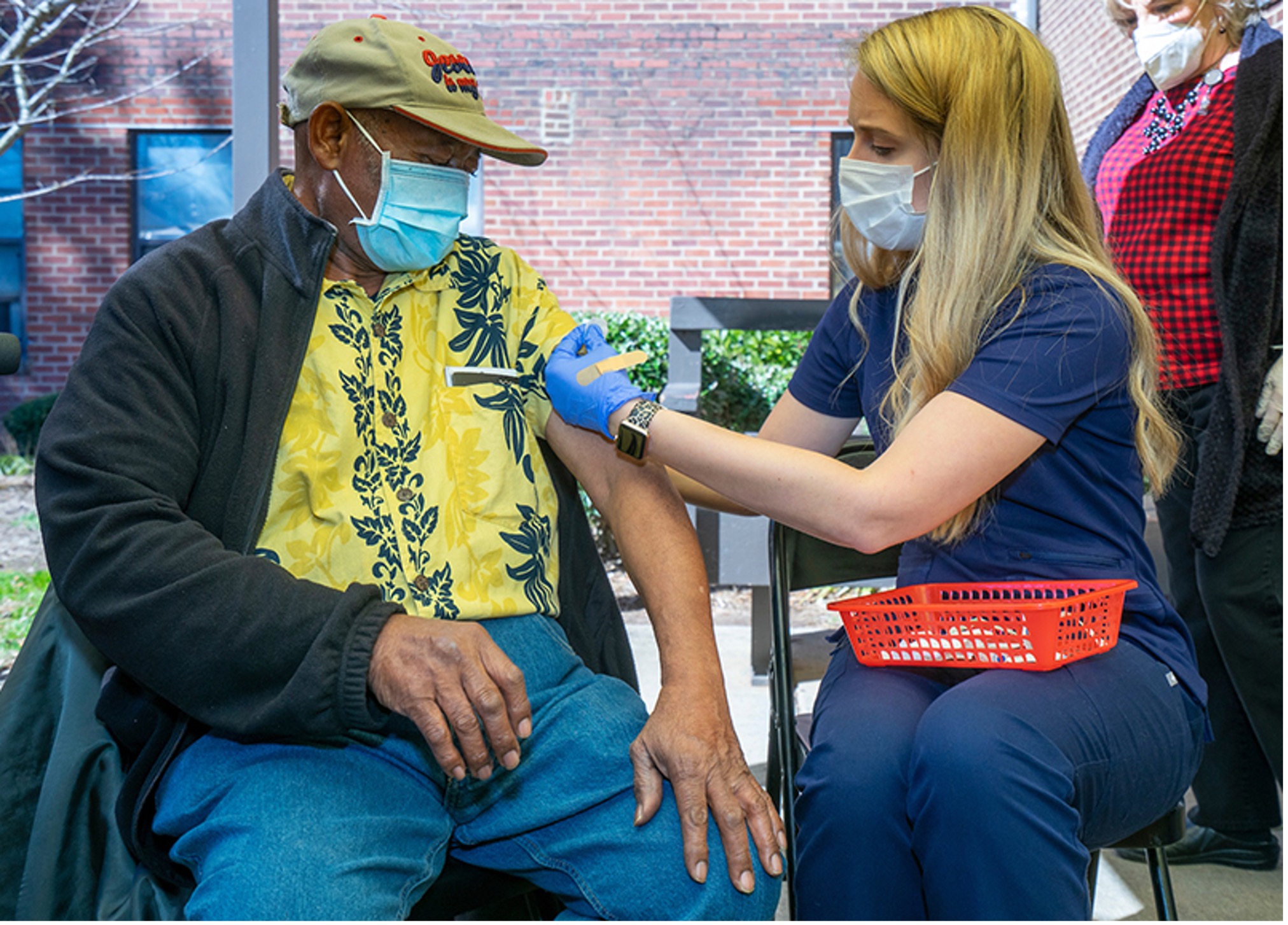 Reaching millions of North Carolinians with COVID-19 was never going to be an easy undertaking, but health system and hospital staff and their community partners are seeing great success from their efforts to bring vaccination opportunities to more people in more places.