Increasing access to affordable health insurance coverage improves the wellbeing of our state and ensures North Carolinians have access to the affordable healthcare they deserve.
The North Carolina General Assembly has the opportunity to include Medicaid expansion in next year's state budget. With additional federal funds available and a large state surplus, covering more North Carolinians is a common sense, bipartisan approach to increase insurance access for hardworking individuals in our state.
We can fund expanded access to care, but we need your help. To improve access to coverage for more North Carolinians, here's what you need to know.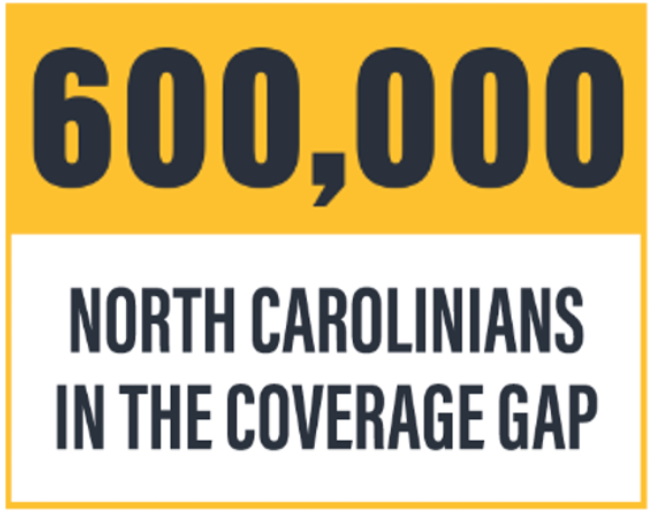 1
600,000 North Carolinians in the coverage gap
Across our state, there are approximately 600,000 individuals currently in the "coverage gap." This means that they don't qualify for Medicaid, but they also don't earn enough to buy an insurance plan on the federal marketplace. Currently, low-income parents and adults without dependent children have no access to coverage – which often prevents them from seeing the doctor, managing chronic conditions, and obtaining necessary prescriptions.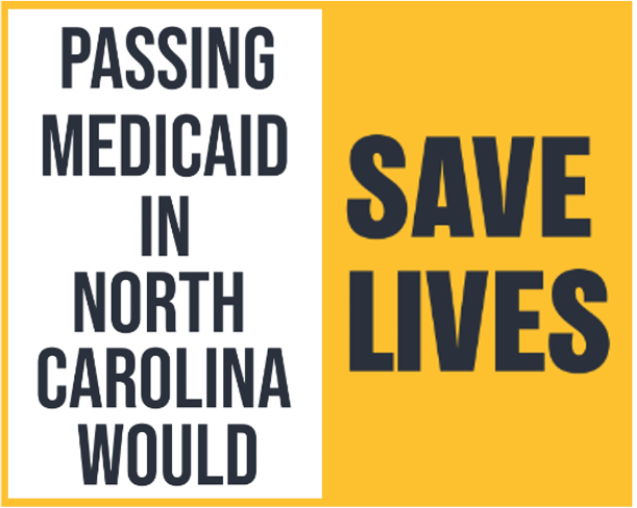 2
Saving Lives
Passing Medicaid expansion in North Carolina would save lives. A 2021 study found that Medicaid expansion reduced deaths, dropping around 12 deaths per 100,000 annually in states that expanded Medicaid. The study also found that expansion of Medicaid in other states could also lead to a 3.8 percent decline in adult deaths.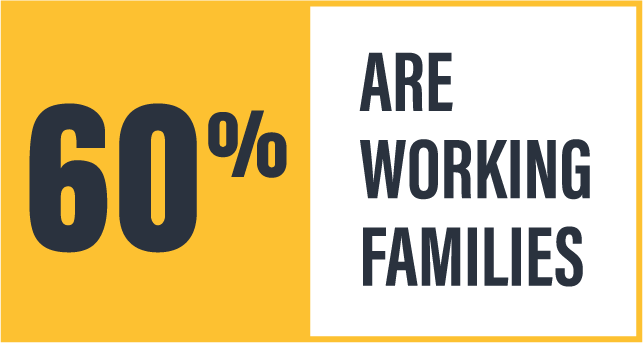 3
60% are working families
Sixty percent of North Carolinians in the coverage gap are in working families. In fact, 100,000 full-time workers in our state live between 100 percent and 125 percent of the federal poverty level. These hard-working individuals are our state's farmers, veterans, clergy, and service industry workers. Working individuals and families deserve affordable access to health insurance. Healthier workers mean a healthier economy, which is why coverage is also critical for a strong workforce.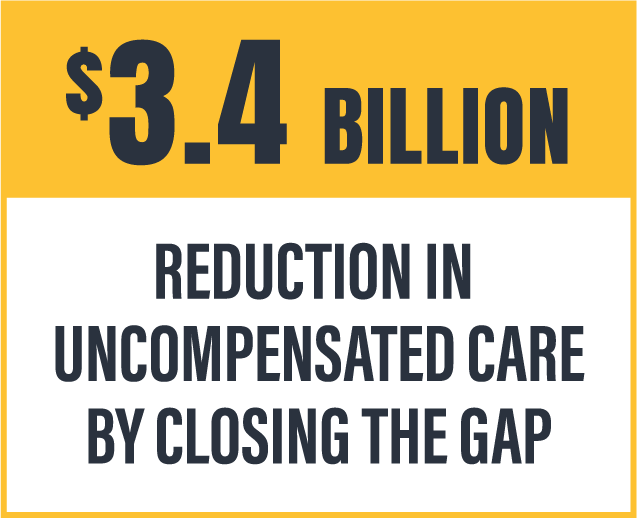 4
$3.4 billion reduction in uncompensated care
Those without health insurance often wind up in the emergency room with preventable, and costly medical conditions. North Carolina hospitals would see a reduction of $3.4 billion in uncompensated care through closing the coverage gap, which would have a particular impact on our struggling rural hospitals. When hospitals provide care without reimbursement, costs rise for everyone, including those with insurance.
North Carolina is just one of 11 states that have not yet expanded Medicaid – which means federal dollars flow to other states, but not ours. 
With the state failing to expand Medicaid for 13 years, some of the numbers are staggering in terms of loss of care and impact to patients in the state. According to WRAL and Health Affairs, tens of thousands haven't had access to medications like diabetes or preventive screenings like mammograms. Failure to expand Medicaid has also resulted in tens of thousands of lost jobs.
We can bring more of our tax money home, expand access for working North Carolinians, and reduce state costs for treating the uninsured.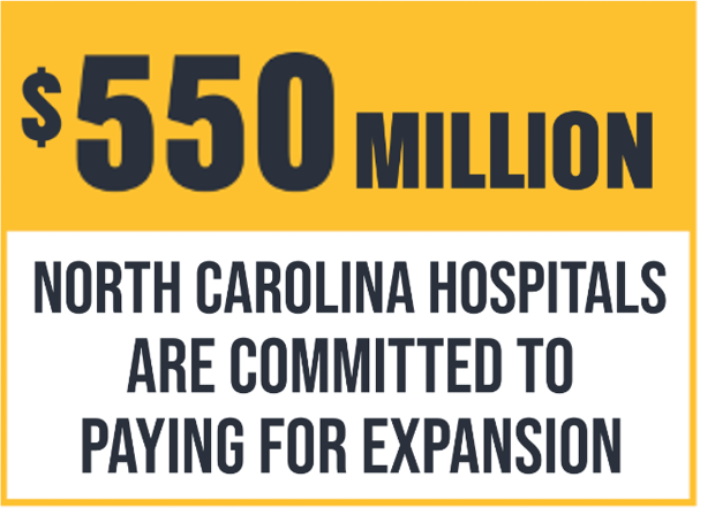 5
Commitment to funding expansion
North Carolina hospitals agreed to cover the estimated $550 million cost of Medicaid expansion knowing the General Assembly also has the ability to pass the Healthcare Access and Stabilization Program (HASP), which will provide federal dollars – with no impact to taxpayers – that will help ensure hospitals have the financial fortitude to care for Medicaid patients. On average, hospitals receive only 72 cents for every dollar spent on providing care to Medicaid and uninsured patients, amounting to a $2.3 billion dollars reimbursement gap every year. Both Medicaid Expansion and HASP are vital to the future of healthcare in North Carolina. The Healthcare Access and Stabilization Program would ensure North Carolina health care providers have the support to take on the 600,000 additional patients granted access through Medicaid expansion.