With COVID-19 cases surging across much of the nation and many regions facing record hospitalizations and deaths, it's more important than ever to stay vigilant in protecting ourselves and our loved ones. Not only are we facing a new wave of the pandemic, but we are also approaching the peak of flu season. According to the Centers for Disease Control and Prevention (CDC), flu season often begins in October with peaks in December and February and can last as late as May. As more North Carolinians stay indoors and potentially travel for the holidays, the risk of spreading both illnesses are rising.

Avoiding a hospital surge
As hospitals nationwide begin to face shortages of beds and supplies, it's critical that as a community, we take all the precautions we can to slow the spread of both COVID-19 and the flu. This allows our hospitals to ensure all patients can safely access the care they need.
These precautions include wearing face masks, washing hands, social distancing, avoiding gatherings, and getting the flu vaccine.
As we approach this cooler season, Christopher Ohl, M.D., infectious disease specialist with Wake Forest Baptist Health, shared how North Carolinians can stay as safe as possible during the pandemic and flu season.

His first tip? Get the flu vaccine.
"Everyone, with very few exceptions, should receive the influenza vaccine this year," said Dr. Ohl. "In addition, wearing a mask does decrease the risk of getting COVID-19 or the flu and reduces the chance of transmitting these viruses to others if someone is asymptomatically infected. Beyond wearing a mask – continue to practice social distancing, hand washing, and good hygiene."
While traveling and gathering for the holidays is not recommended, Dr. Ohl shared that getting tested before being in contact with anyone outside your household can reduce the rate of transmission.
"Before seeing family this holiday season, or anyone outside of your household, consider getting tested," says Dr. Ohl. "Especially, if you have recently been a contact with a known COVID-19 case or have recently attended an event with a large group of people not wearing masks or distancing, if you are a college student going home for the holidays, or if you are traveling to regions that require a test for entry."
Still have questions? Dr. Ohl shares more below.
What should North Carolinians do if they feel sick and suspect they might have contracted either of these viruses?
First, stay home and do not go to school or to work. Wear a mask and practice personal distancing in your household. Consider getting tested for COVID-19 and the flu. If your illness doesn't start to go away by day four or five, gets worse, or if you have underlying health conditions, such as heart, lung, kidney disease, are over the age of 55, or if you have trouble performing usual daily activities, call your doctor. If you are having trouble breathing, go to the nearest emergency department.
Should I get tested for the flu and COVID-19 before seeing family?
It is still recommended that we remain in contact only with individuals in our households. However, if you do plan to travel, getting a test for both COVID-19 and the flu is a great way to know if you've been infected with the virus. After getting a test, it's important to self-isolate to ensure that you're not infected between the time you received results and the time of contact with others. If you receive a positive test it is imperative to stay home and self-isolate.
How can I stay safe and keep my family healthy during flu season and amid COVID-19?
Many of the same measures we take to reduce the spread of COVID-19, such as wearing a face covering, washing our hands, staying home when we're sick, and social distancing, are also effective at reducing the spread of influenza. In addition, it is wise to continue to avoid large gatherings. Even smaller indoor groups of people can allow viruses to easily spread.
This holiday season try to avoid traveling long distances and keep to one family unit or interact with only one other bubble of people you know and trust very well. Remember, a negative test only determines that you were negative at the time the test was conducted. Testing helps increase safety but by itself is not effective unless you practice other safety measures.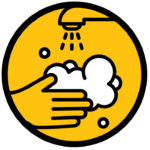 Is COVID-19 more easily spread in cooler months? 
COVID is transmitted more easily during colder months. We know this from experiences in the southern hemisphere and with other respiratory viruses. There is more than one reason for this. Perhaps the most important is that people are spending more time indoors and we have holiday gatherings in the winter months where family and friends gather indoors rather than outdoors. Also, the virus itself survives longer in cooler, less humid conditions, thus there is a greater risk of transmission when people do get together. Lastly, heated homes and surfaces tend to dry out our mucous membranes in our noses and throats which slightly decreases the body's ability to fight the entry of the virus into our bodies.

Thanks to Christopher Ohl, M.D., infectious disease expert with Wake Forest Baptist Health for answering these important questions to help keep North Carolinians safe this flu season.