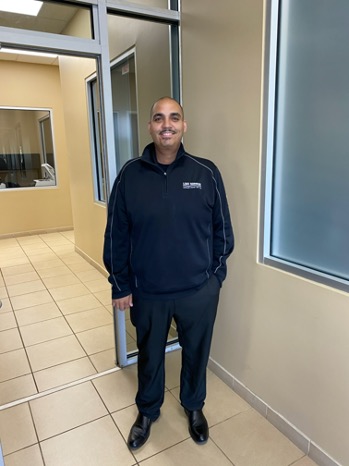 For 33-year-old Jesus Chavez, family time is everything. He lives with his wife and two daughters, and when he's not at work at a car dealership, he enjoys spending time with his daughters doing yard work, sharing Friday game nights and taking trips to the zoo. "I'm a family guy, definitely," he says.
A year ago, Jesus had tongue pain that didn't go away. He went to an ear, nose and throat specialist who did a biopsy that showed cancer. From there, he was referred to Iredell Health's J. Allen Knox Radiation Therapy Center. As a whole, Latinx people are less likely to have access to high-quality care. But that wasn't the case for Jesus. "I felt that I was in good hands with the treatment team," he says. 
His doctor recommended aggressive treatment, and he had an intricate, nine-hour surgery at Wake Forest Baptist Health to remove half of his tongue and 52 lymph nodes in his neck. He was in the hospital for two weeks before starting radiation therapy.
Recently, Jesus learned that the cancer spread to his shoulder. The news was a blow. But Jesus feels confident in his treatment team and is glad to return to Wake Forest. He especially appreciates that his doctor meets with panel of cancer board experts weekly and has presented Jesus' case to this group. His treatment options include immunotherapy, which uses medication to call on the body's own defense system to fight cancer cells.
For the moment, Jesus is working on learning how to eat, drink and talk again, minus the missing part of his tongue. He's looking forward to taking his daughters to a water park. His wife is also expecting another child. "I definitely want to get healthy for when the baby is here," he says.